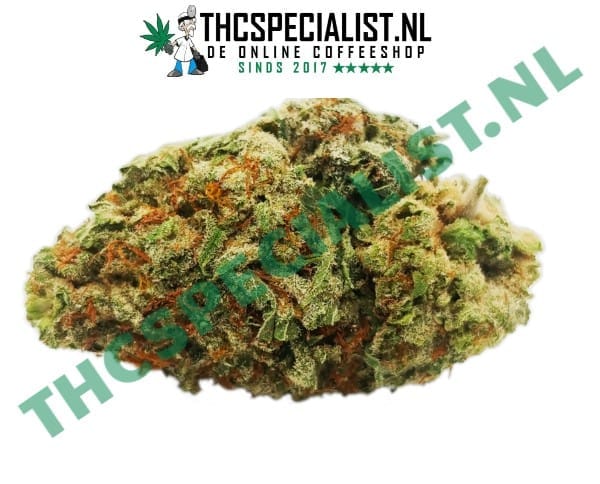 Wedding Cake #3
Wedding Cake #3
Wedding Cake #3 Preset
Wedding Cake #3 is a sought-after cross of Cherry Pie and Girl Scout Cookies.
Known as a frosted treat with a sweet and sharp nose.
Sorry, but it doesn't taste like the last wedding cake you ate.
It was called Wedding Cake because of the THC crystals on top making it look like frosting.
Trichomes cover the buds and sides of the calyxes. Shades of pinkish red and grape give this weed a sugar cookie look.
The flowers are dense and shaped like tears. Some people call wedding cake the "Pink Cookie" because of its color.
But don't be fooled, Wedding Cake #3 is very potent, with THC levels averaging 27%.
Medicinal
Wedding Cake #3 cannabis organically grown
thc-specialist.nl only sells organically grown weed, we are against pesticides.
Processed weed or weed involving chemicals are dangerous to public health.
All our products are tested for chemicals and other additives.
In addition, each strain of marijuana is carefully tested for quality.
We can say after 20 years of experience that we can guarantee you the best products!
Wedding Cake #3 weed order
Ordering Wedding Cake #3 cannabis can be done very easily on our webshop.
We ship your order discreetly and odorlessly.
Belgian and international customers can also order discreetly.
All our Belgian and international orders are shipped in Belgium.
In just 1 or 2 working days the very best weed at home!
Pay safely by bank transfer, or prefer to pay anonymously with bitcoin!
No experience with bitcoin yet? Contact our service desk.
Lab Tested Weed
We only want to sell 100% quality products to our customers, therefore we have all our products laboratory tested every month.
The laboratory that tests our stuff is registered in California and specializes in testing for THC.
This also ensures that there are never any other chemicals through our products.
Ordering weed
In addition to ordering weed, you can also go for others thc products.
We sell hash , weed , vape and others thc products.
We try to offer high quality thc products as much as possible.
Our team is working in the Netherlands as well as in other countries to find new products!
So you can always try the latest trends on our website.
Are you looking for a great product? let us know.